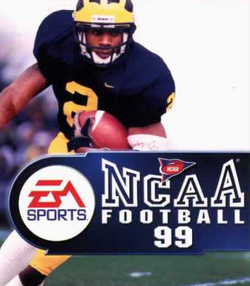 NCAA Football 99
is the sixth edition of the
NCAA Football Series
. It was created by
EA Sports
for the
Microsoft Windows
and
PlayStation
platforms and released on August 6th, 1998. Its tagline read "Desire + Pride = Victory!"
The game featured University of Michigan cornerback and Heisman Trophy winner Charles Woodson on the cover.
This game does not feature commentary from booth announcers, but from a PA Announcer. Also, unlike the current games in this franchise, NCAA Football 99 featured an optional 16 team playoff at the end of the season in dynasty mode.
One notable difference in this game is that The Heisman Memorial Trophy is replaced by the "EA Sports MVP" trophy and other fictional awards are given out as well. Recruiting is simple and done in a serpentine draft system. The Rose Bowl, Cotton Bowl, Fiesta Bowl and Sugar Bowl are all playable, but the other Bowls offered have EA Sports as the sponsor.
Another exciting new feature is that custom players created from this game can be imported to the pro-football video game Madden NFL 99.
The game featured all 112 Division I-A teams and the ability to create or edit players and names, sixty fight songs and crowd chants. Over 80 historical teams were added to the game as well.