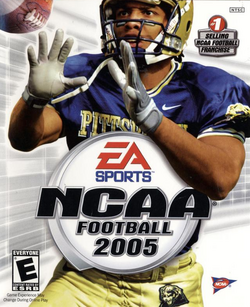 NCAA Football 2005
was the 12th installment of the
NCAA Football Series
. The game was developed by EA Tiburon and released by
EA Sports
on July 15th, 2004 for the
PlayStation 2
,
Nintendo GameCube
, and
Xbox
. The primary feature of this game is introduction of home-field advantage and "The 25 Toughest Places to Play".
The cover of the game features University of Pittsburgh and current Arizona Cardinals wide receiver Larry Fitzgerald. Fitzgerald was runner-up for the Heisman Trophy, barely losing out to Jason White of Oklahoma.
This version of the game focused primarily on home-field advantage. The home team's defense can incite the crowd to make noise, making it difficult for the offense to hear the quarterback's audibles. The home team's offense can also quiet the crowd, allowing the quarterback to call audibles very easily. All of this allows the energy of the crowd, if strong enough, to swing the momentum of the game. To enhance this feature, NCAA Football 2005 ranked the "Top 25 Toughest Places to Play," where the power of home-field advantage would be at its strongest.
Another new addition was the "Match-Up Stick" feature which allowed players to match up more experienced and skilled players on younger, less-talented ones to exploit mismatches.
While most reviews of this game were positive, many critics felt that NCAA Football 2005 made little changes from NCAA Football 2004. Gamers also noticed that receivers dropped passes considerably more than the previous version.
The 25 Toughest Places to Play
Edit
These rankings are based on home winning percentage, average attendance, and "atmosphere" (i.e., fan rowdiness and noise).
All Division l-A schools were included in the game along with more than 70 l-AA schools. Signature fan celebrations, such as the "Gator Chomp" or "Texas Hook 'Em Horns" were also included.