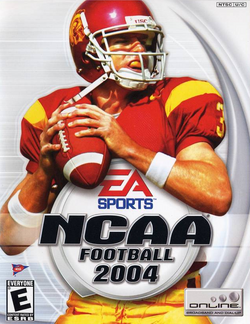 NCAA Football 2004
was the 11th installment of the
NCAA Football Series
, released for the
Xbox
,
Nintendo GameCube
,
PlayStation 2
, and oddly enough, Nokia's
N-Gage
. The game was developed by EA Tiburon and released by
EA Sports
on July 16th, 2003. It was developed by Exient Entertainment and released on December 10th, 2003 for the N-Gage. This game is often still available as many critics and fans consider it a classic and perhaps the best game in the franchise. However, copies of this game for the Nintendo Gamecube are hard to come by.
Cover
The player on the cover is former USC quarterback, Heisman trophy winner, and current Oakland Raiders quarterback Carson Palmer.
Gameplay
Gameplay in this version is very similar to NCAA Football 2003, but with updated player stats and rosters. Like before, the football players have only a jersey number, but users can input their real-life names or made-up names if they so desire. Users can also create their own college for Dynasty Mode.
NCAA Football 2004 was also the first college football video game to feature the true pageantry of the sport. Players run out from the locker room behind flag bearers and there are several touchdown celebrations (which may or may not lead to unsportsmanlike conduct penalties). The commentators in the game are Brad Nessler, Kirk Herbstreit and Lee Corso.
Highlights Listed on the Packaging
NCAA Tradition Comes Alive
Wide Open Gameplay
Battle Rivals Online
Old School Players and Uniforms
Available Tutorials
Play Calling
Running Controls
Passing Controls
Running the Option
Special Teams
Gallery