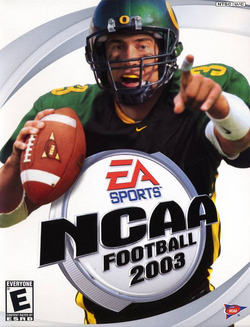 NCAA Football 2003
, released for the
PlayStation 2
,
Nintendo GameCube
, and
Xbox
, was the 10th installment of the
NCAA Football Series
. It was developed by EA Tiburon and published by
EA Sports
on July 23rd, 2002. It was the first version of the series to be released on 3 different video game consoles.
The Cover
Edit
The game's cover featured University of Oregon quarterback Joey Harrington.
New features added to this version of the game included over 200 licensed fight songs, 3D cheerleaders, and new trophies and awards (modeled after real college football awards). Players could win various trophies by playing games and could add them to a collection displayed in a trophy room. These awards included the Heisman, Coach of the Year and Bowl-specific trophies. The game featured 23 different rivalry trophies that were created to represent their real-life counterparts, such as The Little Brown Jug, given to the winner of the Michigan - Minnesota game.
The game's dynasty mode was enhanced with the ability to redshirt a player and schedule non-conference games before each season. Also, Create-A-School mode returned in this edition of the game after being absent from NCAA Football 2002.
NCAA Football 2003 was also the first in the seires to feature a customizable interface. A player could choose his or her favorite team and the game interface would be based around that team's fight song, mascot, logos and school colors.
Players could choose from 144 different schools.