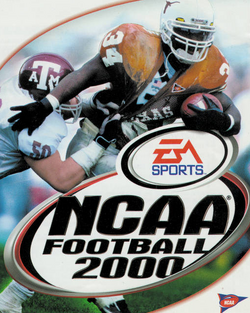 NCAA Football 2000
was the 7th installment of the
NCAA Football Series
and was released only for the
PlayStation
video game console. It was created by
EA Sports
and released on July 29th, 1999.
The cover of NCAA Football 2000 featured University of Texas running back and Heisman Trophy winner Ricky Williams being tackled by a Texas A&M University defender.
NCAA Football 2000 was the first in the franchise's history to feature 3D, polygon-rendered players. Other notable new additions included coaching tips, 23 real bowls (a large jump up from the previous four bowls offered in NCAA Football 99), the ability to edit new plays, and the official Heisman Trophy award.
This installment of NCAA Football included all Division I-A schools (of which there were 114 at the time) and 26 teams from Division I-AA.