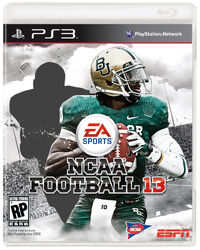 NCAA Football 13 is an upcoming American football video game published by EA Sports and developed by EA Tiburon. The game is set to be released on July 10th, 2012 for the Xbox 360 and PlayStation 3.
It is the successor to NCAA Football 12 in the NCAA Football series. It is expected to have a heavy focus on past Heisman Trophy winners such as Archie Griffin.
On February 27, 2012, it was announced that former Baylor quarterback and 2011 Heisman Trophy winner Robert Griffin III will be the cover athlete for the game. A fan vote, that started on March 12th, allowed players to vote on who else would be on the cover as well. The selections were all former Heisman-winning players. The options were Barry Sanders, Eddie George, Doug Flutie, Marcus Allen, Desmond Howard, Charlie Ward, Andre Ware, and Hershel Walker. The winner of the vote was Barry Sanders, who appears next to Robert Griffin III.
New Rules
Edit
NCAA 13 will feature the newly modified rules adopted by the NCAA regarding moving the kick-off up by 5 yards.
Gameplay Changes
Edit
This year, NCAA 13 will include many new pass animations, throwing animations, sack-avoidance moves, 20 new Quarterback dropbacks, and 25 pass trajectories (compared to last year's 1 pass trajectory). Wide receivers will have icons that show their readiness before you throw to them, and defense will have to be able to see the ball to block it, eliminating "blind swats".
The game is also introducing a new feature called "Reaction Time" that allows for the game to enter into slow motion, giving you time to think about a split-second decision or move. The amount of time a player has is determined by the "Awareness" stat.
Heisman Challenge
Edit
This is a new mode for the NCAA franchise that will feature athletes who have won the Heisman in an alternate universe where the athlete is playing for a different school. The player only has one year to meet or break the athlete's previous Heisman stats. During the season, video of the athlete talking about what it was like during their college years will play. After playing through this mode and winning the Heisman with an athlete, that athlete will become available in the four-year long career mode Road to Glory.
The roster of Heisman winners as of right now includes:
Robert Griffin III
Barry Sanders
Andre Ware
Herschel Walker
Marcus Allen
Charlie Ward
Eddie George
Desmond Howard
Carson Palmer
Doug Flutie
If you download the free demo, you unlock additional athletes, including:
Jim Plunkett
Archie Griffin
Tim Brown
Preordering from GameStop will unlock even more athletes, including:
Tim Tebow
Mark Ingram
Matt Leinart.