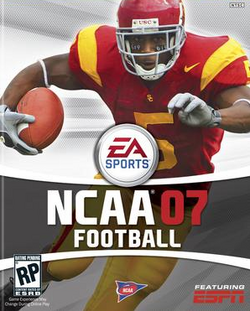 NCAA Football 07
is the 14th installment of the
NCAA Football Series
. It was developed by EA Tiburon and released by
EA Sports
on July 18th, 2006 for the
PlayStation 2
,
Xbox
,
Xbox 360
, and
PSP
video game platforms.
The cover of the game features former USC running back and former Heisman Trophy winner Reggie Bush (his trophy was taken back after it was uncovered that he violated several NCAA regulations).
The theme of NCAA Football 07 is "Turn the Tide". Like NCAA Football 2005 emphasizes home-field advantage, 07 emphasizes that momentum is more important in college football than any other sport. This is illustrated by a momentum meter on the score graphic at the top (or bottom, in the case of the Xbox 360 version) of the screen. The more the meter is shifted towards a team, the better its players will perform.
NCAA Football 07 also includes spring drills, an update to Race for the Heisman mode called Campus Legend (which is similar to the NFL Superstar mode in Madden), ESPN integration, and a spring game in Dynasty and Campus Legend modes. Starting with this edition of NCAA Football, ESPN integration began increasing.
Xbox 360 Version
Edit
The Xbox 360 version of the game was considered to be incomplete, as it lacked features from the other console versions such as Campus Legend mode and Spring Drills. However, the game featured several mini-games of its own, including bowling, where the player is put at the 20-yard line of the opponent's end zone and a touchdown is considered a strike and if a touchdown scored on a second down play is a spare. Furthermore, the graphics in the game were extremely well-done. However, "Create-a-player" required the player to insert the player's name and gear, but the player's look or appearance could not be changed after the player was created.
IGN's award for Best PS2 Sports Game of 2006.
Gaming Target's "52 Games We'll Still Be Playing From 2006" selection.